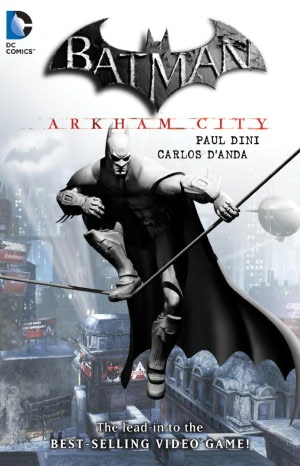 Bridging the gap between both 2009's Batman: Arkham Asylum and 2011's Batman: Arkham City video games, Batman: Arkham City is a must-have for any fan of the franchise. This hardcover collects the five issue mini-series as well as the Arkham City digital chapters 1-5.
The story delves into the appointment of Quincy Sharp as the Mayor and the creation of Arkham City, but a "Strange" man is behind it all. It's up to Batman to investigate what's going on, infiltrate the Arkham City walls, and find out who this shadowed figure is, what his motive is, and what he wants with Batman before it's too late.
The digital chapters follow 5 different villains adjusting to Arkham City and doing what they can to survive the Gotham's deadly prison.
As a bonus, there are 15 pages of concept artwork for the video game that are just stunning!
Arkham City Joker Concept Art
Written by Batman: The Animated Series veteran, Paul Dini, the story is solid, original, and hails back to the tone of The Animated Series. Carlos D'Anda's artwork is fantastic (he did do the character design for the game after all!) and has that cartoonish Ed McGuinness feel to it.
The collected Batman: Arkham City Hardcover gets a 10 out of 10 Titan Canisters!